IMPLEMENTASI INTERNET OF THINGS (IOT) PADA SISTEM MONITORING DAN NOTIFIKASI PEMAKAIAN LISTRIK RUMAH TANGGA BERBASIS APLIKASI BLYNK
Abstract
Gaya hidup masyarakat telah mempengaruhi tingkat konsumsi listrik mengalami peningkatan. Pemakaian listrik rumah tangga yang boros disebabkan tidak adanya sistem kendali dalam memantau jumlah daya yang digunkan. Pemantauan menggunakan kWh meter tidak cukup karena tidak mampu memantau setiap beban berlebih dalam pemakaian daya listrik. Pada penelitian sistem monitoring dan notifikasi pemakaian beban listrik untuk rumah tangga berbasis internet of things menggunakan blink merupakan sistem untuk memantau beberapa beban listrik dalam rumah tangga melalui smartphone dengan harapan lebih memudahkan pemakai untuk melihat daya yang telah digunakan secara maksimal dan memberikan keamanan apabila ditemukan pada pemakaian listrik pada beban yang berlebih. Pada penelitian ini menggunakan sensor PZEM-004T untuk mengukur nilai tegangan, arus dan daya pada beban peralatan listrik. NodeMCU esp 32 sebagai mikrokontroller dengan dilengkapi wifi module untuk dapat terkoneksi ke internet melalui. Aplikasi Blink digunakan sebagai media pemantauan nilai yang terukur pada sensor sesuai beban peralatan listrik yang digunakan. Hasil pengujian pada sistem ini menunjukkan sitem telah berjalan dengan baik, kinerja yang baik ditunjukkan pada sistem control dan pengukuran delay pada QoS. Pada pengukuran delay pada QoS selama pengujian memiliki total rata-rata delay 104.9 ms.
Keywords
Daya listrik, IoT, NodeMCU, Sensor PZEM-004T, QoS.
Full Text:
References
A. Anantama, A. Apriyantina, S. Samsugi, and F. Rossi, "ALAT PANTAU JUMLAH PEMAKAIAN DAYA LISTRIK PADA ALAT ELEKTRONIK BERBASIS ARDUINO UNO," 2020.
K. Hamamni, M. Mukhsim, and D. Siswanto, "Prototipe Sistem Monitoring Biaya Penggunaan Listrik Pada Rumah Kos Berbasis IoT," JASEE J. Appl. Sci. Electr. Eng., vol. 1, no. 02, pp. 35–46, Feb. 2021, doi: 10.31328/jasee.v1i02.12.
A. I. R. Fernando and M. D. R. Perera, "Smart electricity monitoring and analysing an IoT system with a mobile application," in Proceedings - International Research Conference on Smart Computing and Systems Engineering, SCSE 2020, Institute of Electrical and Electronics Engineers Inc., Sep. 2020, pp. 75–81. doi: 10.1109/SCSE49731.2020.9312999.
H. Mubarok and A. Ardiansyah, "Prototype Design of IoT (Internet of Things)-based Load Monitoring System," in 2020 3rd International Seminar on Research of Information Technology and Intelligent Systems, ISRITI 2020, Institute of Electrical and Electronics Engineers Inc., Dec. 2020, pp. 377–382. doi: 10.1109/ISRITI51436.2020.9315454.
Institute of Electrical and Electronics Engineers. Madras Section and Institute of Electrical and Electronics Engineers, 2019 5th International Conference on Advanced Computing & Communication Systems (ICACCS).
A. Shodiq1, S. Baqaruzi, and A. Muhtar, "Perancangan Sistem Monitoring dan Kontrol Daya Berbasis Internet Of Things," Hal J. ELECTRON, vol. 2, no. 1, pp. 18–26, 2021.
S. Ma'shumah and K. Pramartaningtyas, "Electrical Conductivity Control System in Pakcoy Plant based on Fuzzy Logic Control", doi: 10.1109/JEEEMI.v1.i1.1.
A. B. Lasera and I. H. Wahyudi, "Smart Home System dengan Kontrol Daya Listrik berbasis IoT," Elinvo (Electronics, Informatics, Vocat. Educ., vol. 5, no. 2, pp. 132–140, Dec. 2021, doi: 10.21831/elinvo.v5i2.34261.
T. Umar Syamsuri, H. Buwono, R. Nur Amalia, P. Teknik Listrik, and P. Negeri Malang, "APLIKASI MIKROKONTROLER DALAM SISTEM KONTROL DAN MONITORING ENERGI LISTRIK."
S. P. Anggara, A. . N. Amrita, and D. C. Khrisne, "Rancang Bangun Alat Kontrol dan Monitoring Konsumsi Listrik Lampu Penerangan Jalan Umum Berbasis Mikrokontroler ATMega 2560," Maj. Ilm. Teknol. Elektro, vol. 17, no. 3, p. 427, Dec. 2018, doi: 10.24843/mite.2018.v17i03.p18.
A. Pramono, A. Azis, and Y. Ricky, "ANALISIS MONITORING ARUS DAN TEGANGAN PADA TARIF R1-TR MENGGUNAKAN MIKROKONTROLER ATMEGA 328," vol. 20, no. 1, pp. 23–30, 2019.
R. Ajeng et al., "R A Gusti Ramadhianti, Ir. Cok Gede Indra Partha, I G A Pt Raka Agung RANCANG BANGUN MONITORING ENERGI LISTRIK MENGGUNAKAN SMS BERBASIS MIKROKONTROLER ATMEGA328," 2018.
R. H. Wirasasmita, D. Prihatmoko, and M. Supriyadi, "SISTEM MONITORING PEMAKAIAN DAYA LISTRIK PADA KWH METER MENGGUNAKAN ARDUINO DAN SMS GATEWAY MONITORING ELECTRICITY CONSUMPTION KWH METER BASED USING ARDUINO AND SMS GATEWAY," vol. 13, no. 1, pp. 65–73, 2022, doi: 10.34001/jdpt.v12i2.
K. Nadliroh, M. Indrawati, K. Kunci, : Bluetooth, and A. Daya, "Rancang Bangun Kendali Perangkat Elektronik Dan Monitoring Daya Listrik Berbasis Bluetooth."
DOI:
https://doi.org/10.30591/polektro.v12i3.5282
DOI (PDF (Bahasa Indonesia)):
https://doi.org/10.30591/polektro.v12i3.5282.g2526
Refbacks
There are currently no refbacks.

This work is licensed under a
Creative Commons Attribution-NonCommercial 4.0 International License
.
----------------------------------------------------------------------------------------------------------------------

Indexed By :
----------------------------------------------------------------------------------------------------------------------

Tim Redaksi POWER ELEKTRONIK : JURNAL ORANG ELEKTRO
Program Studi D3 Teknik Elektro
Politeknik Harapan Bersama Tegal
Jl. Mataram No.09 Pesurungan Lor Kota Tegal
Telp. (0283) 350567
Email :
powerelektronik.ejournal@poltektegal.ac.id
elektropower41@gmail.com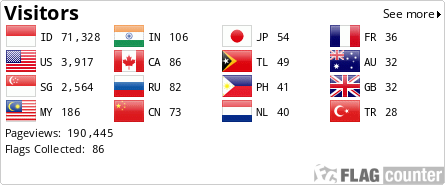 Power Elektronik : Journal Orang Elektro licensed under a
Creative Commons Attribution-NonCommercial 4.0 International License
.